Animal House
A well maintained animal house facility has CPCSEA approval to carry out experiments involving animals.
Biochemistry Lab
The Biochemistry Laboratory is sufficiently ventilated and provided with fuming chambers, incubation chambers, first aid unit and has convenient place to shelf analytical and corrosive chemicals. The laboratory is a hub to carry out practical experiments as prescribed by the university and is also equipped with high end gadgets. The infrastructure of the lab complies with the bio safety measures. The students,faculty and lab assistants are well oriented with the knowledge of safe handling of the chemicals, equipment and proper disposal of biochemical waste.
Botany Lab

The botany lab is well equipped with space for display of specimens and charts and each student is provided adequate attention and supervision during practical sessions. The lab provides an appropriate ambience for teaching staff and students to carryout research.
Business Lab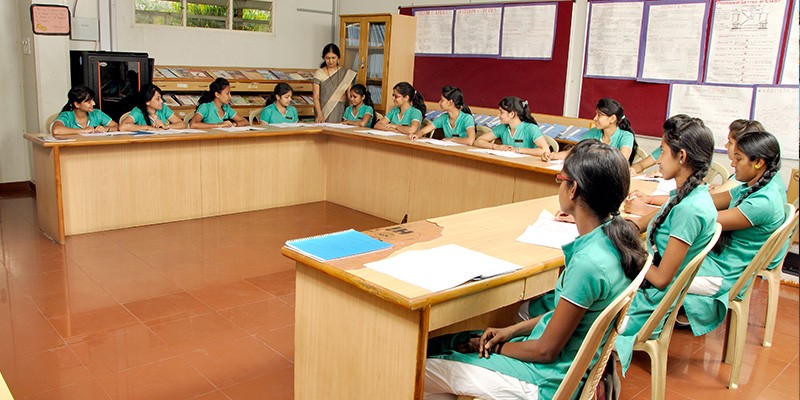 Chemistry Lab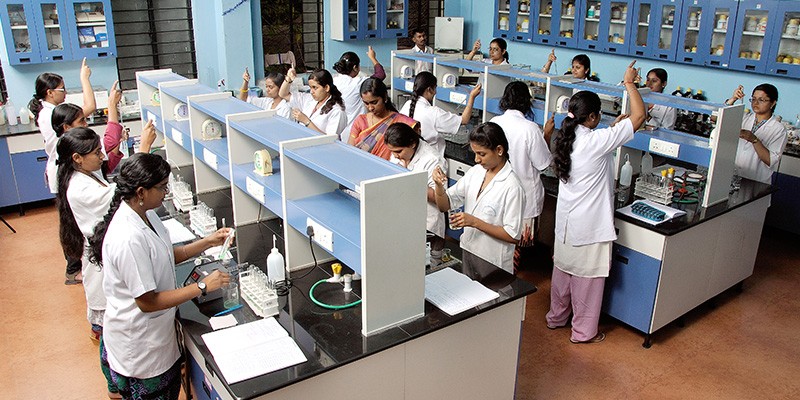 The Chemistry lab is well equipped with relevant chemicals for students and staff to undertake practical experiments. All safety measures are followed to ensure safe lab practices.
Computer Lab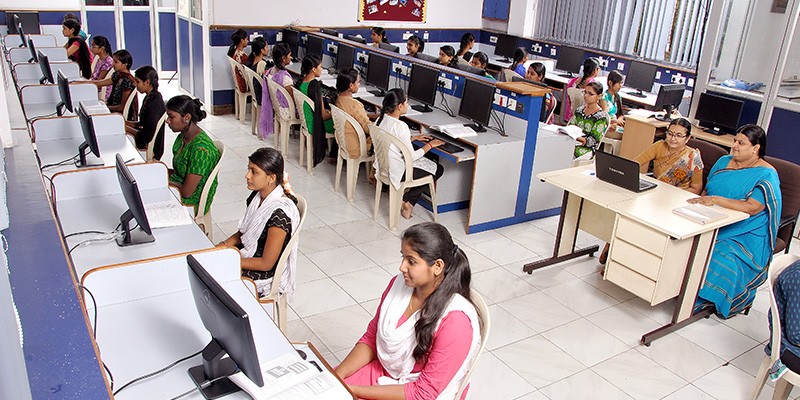 The computer laboratories have several facilities to equip and update the students with the latest technologies. The department owns latest versions of licensed softwares such as Windows 7, Microsoft Office 2007, Visual Studio 2008 and Windows Server.Students taking up project work in companies are able to design and develop projects using the latest version of the software. Adobe Master Collections is a special collection of software used exclusively for high end multimedia &web projects. The latest version of anti-virus software is purchased every year to protect the computers from new virus and worms. The NetSim simulation software helps students to learn the concepts of computer- networking in an easy and efficient manner. All the computers provide high-speed internet surfing via BSNL broad band connection with unlimited free downloads. Linux Server provides access to Linux Operating System through TELNET to all the computers. Three high end servers with rack server & data storage, efficiently manage a centralized database system.

Research Lab
The research lab is a state of art lab with high end equipment to carry out quality life sciences research projects. Faculty members and students of the institution engage in research that has social relevance for the benefit of the community. Teaching staff and students of other institutions are also encouraged to use the facility as an outreach initiative to carry out research in cutting edge areas.
ED Centre
Entrepreneurship Development Centre was established in the year 2005. It is a platform for students to become self employed by strengthening entrepreneurial skills and competencies with a view to empower women as potential entrepreneurs. In order to encourage and inspire the students, Entrepreneurship Development Centre organizes various activities such as Guest Lectures, Inno Waste Competitions, Jewellery Making workshop, etc. and provides opportunities for them to put up stalls and sharpen their entrepreneurial acumen. They are also provided with guidance to start their own ventures.

Language Lab
The language lab is a well-equipped laboratory with internet facility. Extensive learning material is available for students in the form of videos, CDs, DVDs and books. Students can take online tests on various concepts. Communicative English course, a UGC sponsored Add -on course designed for undergraduate students is offered by the language lab. The primary focus of this course is to help students to communicate and express themselves in English proficiently,and to give them an edge over others in securing good placements. Speaking,Listening, Reading and Writing skills of the students are developed to reinforce the interpersonal communicative ability.

Math Lab
The Ramanujan Foss Lab (Math Lab) was inaugurated in 2010 with the main objective of inspiring students to understand the practical application of Mathematics in research and business. The lab is equipped with relevant software and hardware. The Department also conducts remedial sessions for students in a friendly environment so as to build confidence in learning and enjoying the study of mathematics.